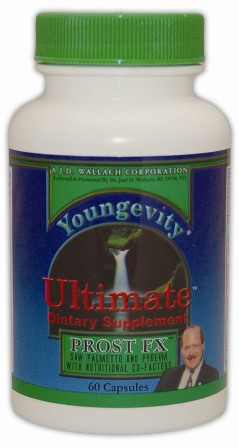 If you have a male family member approaching age 50 and above and they eat a SAD (standard American diet), then most doctors will say they are at risk for having prostate problems, enlarged to developing cancer.  While this is pretty simple to fix and maintain, you still need to know how.
Within Youngevity products, they have developed a nutritional support of the prostate gland through the product called Ultimate Prost Fx. This is an excellent product for men who are looking for a nutritional answer for optimal prostate health.
• Promotes prostate health
• Supports healthy prostate function*
Visit the how to order Youngevity Products page or go directly to our YoungevityOnline page.  The product number is 20682.  If you'd like to pay via PayPal visit iYoungevity.com!  Thank you for visiting today.