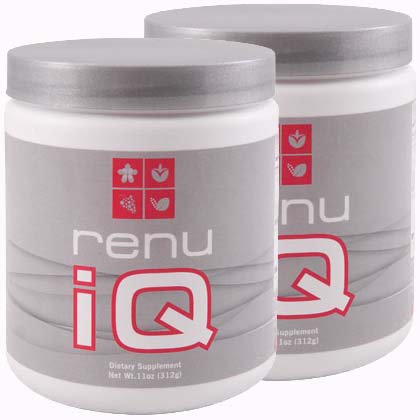 Renu IQ – 1 Canister Item #: AD1500
Today's product from the Youngevity Products line comes from the Adaptogenix Brand of products and if you're someone whose brain gets sluggish during the day, this may be the best day of your life. This is NOT AN ENERGY drink, but more a brain alert supplement so that you are getting better brain function throughout the day.
The Renu IQ is a nice blend of wildly crafted adaptogens (remember: Adaptogens are plants that practitioners of herbal medicine claim decrease cellular sensitivity to stress.) with key vitamins and the well known, highly touted herb for anti-aging, resveratrol. The makers say drinking Renu IQ twice a day will naturally and nutritionally give added support to your brain, making you sharper than a jeopardy player and more mentally alert than Michael Jordan in the fourth quarter.
Renu IQ: Supplements
This product was formulated by a HA-HA-HA Harvard Medical Doctor, who was a specialist in anti-aging medicine. This is the kind of guy or gal you want putting together a health beverage for you… Renu IQ is powerfully made with antioxidants and was predominantly made to promote healthy brain function. It has a great grape flavor and goes down well with water or juice. Take notice of yourself, do a week on and a week off and if you drink it twice a day during your on week, you'll see that you are mentally sharper, alert, focused, alive, and energized.
Improve Memory and Mental Alertness
Here are some additional benefits you can enjoy:
Healthy Brain Function

Memory and Learning Ability

Supports focus, concentration and mental alertness

Supports healthy immune & cardiovascular function

Promotes healthy sleep patterns

Promotes feelings of well-being and energy
The price is very fair and reasonable at $57.20. There are 60 servings in the container, that is like a $1.05 for a healthy cup of consciousness and alertness.
Reporting live from YoungevityProducts.org
Order this product (Renu IQ by joining today as a preferred customer for free or text us to get a call and order by phone)!
Due Daniels
630.423.6383 (text to order – just text "I need a callback to order ygy products)
info @ YoungevityProducts.org
"Living Learning Achieving . . ."
P.S. Share this by clicking the 'Share' buttons on this page.
P.P.S. Leave your comments, thoughts and stories in the comment section below.
P.P.P.S. for more great information on stress and disease and how to prevent and/or reverse over 400 diseases, visit the Mineral Man Today!