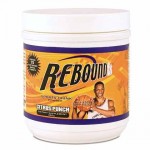 Okay STOP WHAT YOU'RE DOING… because I'm about to ruin the sports beverage that you're used to.  Okay I actually got that line for Digital Underground; the song was the Humpty-Dance, played at most parties still.  At any rate, I am about to introduce a sports beverage like no other to you.  It's called the Rebound Fx.
Rebound fx™ Citrus Punch is a high-powered alternative to the high-sodium, high carbohydrate sports drinks used by others! It supplies a quick continuous energy punch while offering a balance of antioxidants, natural herbs, and the most importantly the minerals that must be replenished in order for the body to function at optimal levels!
Such athletes as Boston Celtics Jeff Green, Portland Trailblazers guard Brandon Roy, and many others who are forced to sit out or even retire because of health related issues could bounce back if they were properly educated about the nature of their injuries by a holistic doctor.  A doctor who understands thoroughly the nature and importance of minerals, minerals that are packed in the ReboundFx, would help these athletes out immensely.  Rebound Fx:
Promotes Healthy Exercise
Supports Optimal Well-Being
Supports Cardiovascular Health
Supports Immune System Health
Boosts Energy and Stamina
Great Citrus Taste!
And is endorsed and promoted by NBA All-Star Theo Ratliff
Try some today! Visit how to order Youngevity products to learn how to order or go right online YoungevityOnline.com it is product number 13223!
You also can go directly to iYoungevity.com
Rebound Anyone?
Share this if you will – follow Due at twitter.com/duedaniels
Due Daniels
Contributing Writer
630.423.6383 (call to order or go online)
SEMD Youngevity Rep 100505006
Join our newsletter for health related information, and secret unique health and wellness tips never shared in mainstream media. You'll receive 8 audios that will paint a clear picture of why people are sick and what healthy people are doing to stay vibrantly healthy!
*(Nothing on this site is approved by the slimy FDA and you must consult a doctor when taking on any new dietary regimen, supplements, or lifestyles)