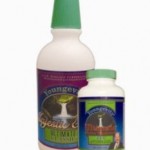 Bottle of Majestic Earth Ultimate Classic Dr. Wallach's Majestic Earth Ultimate Classic (ME Ultimate Classic) is a liquid vitamin, mineral and amino acid supplement containing a highly bio-available complex of nutrients formulated to be so complete that, taken along with the Dr. Wallach's Colloidal Minerals, little other supplementation is necessary.
Majestic Earth Ultimate Tangy Tangerine (ME Ultimate Tangy), like the Classic, contains the same collection of nutrients essential to human health, but in a toned down, user-friendly version. The Tangy tastes better and pours more smoothly than the Classic, but contains less calcium, magnesium and zinc.
Majestic Earth Ultimate Classic is formulated in a base of double concentrated Majestic Earth Minerals, so in one bottle of the Classic one can find 14,700 mg of ME Minerals. The rest of the formula consists of a proprietary mix of essential, liquid amino acids, major mineral colloidal chelates, essential liquid vitamins and a variety of specialty nutrient cofactors such as biotin, GDL, bioflavinoids, coenzyme Q10, grape seed extract, dimethylglycine, SOD, MSM, etc.
Taken together these ingredients, all harvested from the very highest of quality sources, form the most ambitious, most robust, widest spectrum, liquid, nutritional drink on the market.  It is one of the leading Youngevity products within the 400 plus product inventory.  Get a bottle today!  Ultimate Classic 32 oz Youngevity Essential Health