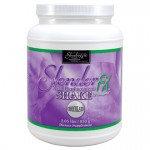 Hey you need this Youngevity product for two reasons; the natural protein and the positive effects this will have on you.  Slender FX™ Meal Replacement Shake is a great-tasting, nutrient-rich meal substitute shake. Each tasty serving of Slender FX™ contains just 110 calories, yet delivers an extensive variety of vitamins, minerals, and other nutrients to maintain awesome levels of physical, mental, and emotional energy right through the day. If you mingle it with the fruit and liquid of your picking you will be in for a scrumptious, full-flavored, thick milkshake-style drink.
For best results, use as part of the Slender FX™ Weight Management System that includes Slender FX™ Food Fiber and Slender FX™ Cleanse FX' (if your goal is to lose weight).
SUGGESTED USE: Mix 1 scoop of Slender FX™ Meal Replacement Shake per 1 cup of non-fat or 1% milk, or low fat yogurt, and ½ cup of your favorite fruit and blend until smooth and creamy!
Try some today! Visit how to order Youngevity products to learn how to order or go right online YoungevityOnline.com it is product number 21023C (for chocolate) 21023V (for vanilla)!
You also can go directly toiYoungevity.com