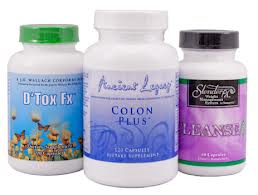 Youngevity has a 5 Day Cleanse that I always recommend to people BEFORE they start using Dr. Wallach's popular 90 for Life vitamins and minerals. The 5 day cleanse comes with three different products, you have the D'Tox Fx, the Colon Plus, and the Cleanse Fx. These all can be taken individually to help maintain your colon, but when you put them together during the 5 day cleanse, you give the colon a chance to heal and be cleaned out.
Youngevity's 5 Day Cleanse
The cleanse works best if you do not eat food during the five days. To many people, myself included, the thought of not eating for 5 days just is not music to the ears. However, I learned that it is not as bad as I made it out in my mind to be. To help with low energy due to not eating, the 5 day cleanse, does allow for organic spiced apple juice or plain organic apple juice to make the cleanse better. You are also required to drink lots of water, at least eight cups a day while on the five day cleanse.
My experience showed after day two of the cleanse, the hunger pangs began to go away, and you really felt the system being cleansed out (if you know what I mean). It was not a drastic clean out either, you won't be hurdling kids and furniture to the toilet while nursing an upset stomach. I'm glad I did it, I put it off for a while, but is something I am going to make routine at least three to four times a year. Anyone that eats meat should put the 5 day cleanse on their calendar as well.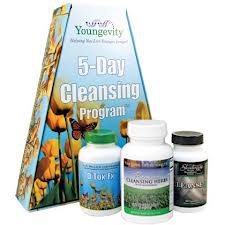 Trying the 5 Day Cleanse from Youngevity
The herbs in the 5 day cleanse will help move out debris sitting in your intestinal walls. I also used the Herbal Rain-forest to cleanse out other organs in my body. Dr. Wallach said on one of his radio shows that the Herbal Rain-forest was good for cleaning out the entire body, so I added to the regiment as I went through the 5 day cleanse.
If you have any questions about the five day cleanse or any of Youngevity's products, do not hesitate to contact me or leave a comment below!
Due Daniels
Try the 5 day cleanse today – learn about it here