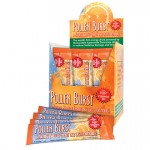 Do you need a small burst of energy during the day and not the normal "hard-core" energy drink out there?  Do you want to lose weight but not with the excessive weight loss programs.  If either one is you, then Pollen Burst by Projoba (a Youngevity company) may be your best bet.
Youngevity products have just got deeper.  Pollen Burst™ is the world's first energy drink powered by flower pollen. It features the super vitamin, vitamin D and the commanding antioxidant superoxide dismutase (SOD).  It is a great-tasting natural orange-flavored drink that works well and hard to fight cellular damage that normally occurs from free radicals, toxins, and other environmental stresses.
I wouldn't be without it at all.  Try some today.  Visit the how to order Youngevity Products page or go directly to our YoungevityOnline page.  The product number is PJ330.  If you'd like to pay via PayPal visit iYoungevity.com!  Thank you.
SUGGESTED USE: Adults, pour contents of one packet into 8 fluid ounces of water, stir well, and serve. Maximum suggested use is 2 packets per day.