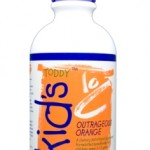 If you have kids then health and nutrition should be very important to you.  Healthy kids begin with a healthy set of parents.  Now I'm sure you've been around and seen the Flintstones vitamins and a bunch of kids' chewable vitamins; but have you seen kids' liquid vitamins and minerals?
Youngevity, through Supralife, has the ultimate kids' product called the Kid's Toddy.  Kid's Toddy® provides your budding child with a complete spectrum of nutrients, including vitamins, minerals, amino acids, and phytonutrients. It is specifically formulated for children ages 2 to 12, and provides the crucial nutrients to sustain their growth.
This product contains NO yeast, dairy, wheat, soy, gluten, starch, or artificial flavorings. It comes in an Outrageous Orange flavor that kids will love!
SUGGESTED USE: Children ages 2-4 years should take ½ ounce daily with meals. Children ages 4 and older should take one ounce daily with meals.  My kids just love it with orange juice.  Serving size may be divided between meals. Children ages 13 or older may begin taking Total Toddy'. Kid's Toddy™ can be mixed with water or juice according to taste.
Give your kids the best possibilities.  Visit the how to order Youngevity Products page or go directly to our YoungevityOnline page.  The product number is 81150.  If you'd like to pay via PayPal visit iYoungevity.com!  Thank you.