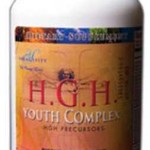 The Human Growth Hormone naturally decreases with age, usually beginning when we are about 35-40 years old. This is why you see guys in the NBA or professional sports careers slow down around that age, because it takes longer for the body to recover from activities.
Youngevity's® H.G.H.  Youth Complex™ product has a proprietary blend of amino acids, minerals, and sea kelp, which makes a justly exclusive product that, cannot be found elsewhere in the market!
This product was truly formulated to help you "Live Younger—Longer"!
Promotes healthy blood sugar levels
Promotes a healthy immune system
Promotes healthy cardiovascular function
Promotes healthy skin
Promotes healthy vision
Promotes sexual health
Promotes healthy brain function
Promotes healthy muscles
Supports healthful exercise*
The suggested intake is six capsules at night before retiring.  This product takes a day or two to get into the system, but once in you will feel the difference in many areas.  Men usually report increase sexual health and healthier looking skin.
Visit the how to order Youngevity Products page or go directly to our YoungevityOnline page.  The product number is 50223.  If you'd like to pay via PayPal visit iYoungevity.com!  Thank you for visiting today.