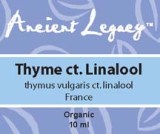 THYME CT LINALOOL OIL 10 ML BOTTLE
Item #: 67038
 It's no secret that essential oils have been a prized possession when it comes to health for thousands and thousands of years. The ancient Egyptians used it, the Biblical Israelites used essential oils much, and many other cultures. However, their healing properties have been hidden in the midst of medical historical text because people are not too aware of the great things essential oils can do for them.
Health Benefits of Thyme
Personally, I keep a bottle of lavender, peppermint, lemon, and a good blend of oils that promote total health. The oil of discussion today is the Thyme Ct. Linalool. This oil is the most gentle oil in the thyme family. I personally use it for aroma, but also in my cooking and anointing myself when going into battle. People have often said I smell like a sandwich and wanting to bite my head because of the thyme smell when I have it on.
The thyme ct. linalool is spicy, warm and herbaceous, meaning it is in the herbal family. This thyme is a powerful and deeply penetrating green plant, extracted from thymus vulgaris from the labiatae family. The major benefit you'll feel, as I do is the uplifting vibration and feeling of courage, along with revival vibrations too. Plus you'll just love the smell.
The Health Benefits of Thyme Oil
Because it is from the gentlest of all the thyme family, it is more precious and that means it is the most quality. The price reflects its' quality, landing in at $67.60 from Youngevity. Don't be afraid of that, be receptive to the health benefits and the great vibration it will give your mind and soul.
Try a bottle today – Reporting live from YoungevityProducts.org
Order this product (THYME CT LINALOOL OIL 10 ML BOTTLE by joining today as a preferred customer for free or text us to get a call and order by phone)!
Due Daniels
630.423.6383 (text to order)
info @ YoungevityProducts.org
"Living Learning Achieving . . ."
P.S. Share this by clicking the 'Share' buttons on this page.
P.P.S. Leave your comments, thoughts and stories in the comment section below.
ps: for more great information on stress and disease and how to prevent and/or reverse over 400 diseases, visit the Mineral Man Today!