Valentines Day can take a terrible turn if chocolate pills are invited into the commercialization of professing ones love. Turns out that Valentines Day is the reason women outlive men. They get a surplus amount of chocolate in one month.
Can a chocolate pill help prevent a heart attack? That is the question a particular headline from the LA Times presented. In my mind I'm just thinking why not eat the chocolate. Well, of course some people may have a bitter taste for chocolate so a chocolate pill would suffice these better.
The world has known the benefits of dark chocolate for some years now. Many centenarians have been able to live a long life based on the contribution of their consumption of dark chocolate.
Dark chocolate usually come in a bitter taste in its natural form, therefore people have enjoyed the added milk and sugar. The problem is most people believe by consuming milk chocolate that they are still getting the same health benefits as in eating dark chocolate.
Do not deceive yourself; just go with the dark chocolate as it is very high in antioxidants and contributes a good amounts of nutrients that preserve the heart and the brain.
In this future study, researchers are going to look into whether certain ingredients in dark chocolate can help prevent heart attack or stroke. The study is set for 18,000 men and women who will focus on bioactive nutrients found in the cocoa bean.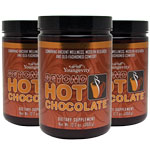 The subjects will be given chocolate pills that contain 750 mg of cocoa flavanols and natural plant-based nutrients found in chocolate. This probably won't be a tasty treat if you have taste the dark chocolate before unless you have tasted from Youngevity, therefore they will be in pill form.
According to one of the researchers Dr. JoAnn Manson she found that cocoa flavanols have been shown to reduce blood pressure and improve cholesterol levels, and this is the reason why this study is taking.
Our chocolate friends at Mars Inc. are sponsoring the study and Mars Inc., in case you do not know, is the company behind M&Ms and Milky Way bars.
Advertisement – No Chocolate and Cold? Get the Healthy Hot Chocolate From Youngevity Today!
Due Daniels @duedaniels
(Writer is associated with Youngevity and is SEMD Youngevity Rep 100505006)
SEMD Youngevity Rep 100505006
Join our newsletter for health related information, and secret unique health and wellness tips never shared in mainstream media. You'll receive 8 audios that will paint a clear picture of why people are sick and what healthy people are doing to stay vibrantly healthy!
*(Nothing on this site is approved by the slimy FDA and you must consult a doctor when taking on any new dietary regimen, supplements, or lifestyles)
Share this and leave a comment – Have something you want us to write about? Send it to us!