If you're a consumer of the Youngevity product Beyond Tangy Tangerine (BTT), you know all about the BTT's new younger but bigger brother. The Beyond Tangy Tangerine 2.0 is the bigger but newer product and some people are loyal and haven't let go of the original BTT.
BTT 2.0 does put up a mean punch. Personally, out of many different multivitamins in the world, the BTT 2.0 would be top 3 among anyone's opinion and review.
The original BTT is loaded and would be top 5. Made with all 12 plus bodily required vitamins, 16 plus amino acids, 60 plus minerals, not to mention 500 mg of fruit and vegetable powder, making it like eating 115 fruits and veggies. The BTT has super strong antioxidant level of over 5,500 ORAC points, definitely helping to boost the immune system.
The BTT is diabetic friendly, and has a good taste to go along with all of its' nutritional value. Mixed in water or juice, or a smoothie, you'll be super happy and feel good also.
When taking the BTT, you do have to take the Osteo Fx Plus separately because the BTT only has 5% of the recommended daily value of calcium. In addition, you'd take the essential fatty acids separately as well.
Now to the big younger brother, the BTT 2.0. Bigger younger brother because the 2.0 is a newer product, making it younger, but it is packed with more nutrients, making it bigger and badder than the original BTT.
You can tell by the supplemental facts that Youngevity wasn't joking around when they put this one together. They upped the vitamin A and C levels and doubled the B-12 levels; as well as ditched the 500 mg of fruit and vegetable powder for certified organic whole foods at 5700 mg.
The amino acid complex went from 125 mg, to an organic amino acid complex of 575 mg. You're also going to get 150 mg of a proprietary blend of free radical defense system of selenium, grape seed extract, and orgainc amla bioflavonoids. For those of you like me who like to juice beets or bake them in the oven, you're going to get beet root extract in the BTT 2.0 as well.
Lastly, you the a prebiotic and probiotic blend of fiber at 100 mg making this an even better supplement to take before, during, or after meals.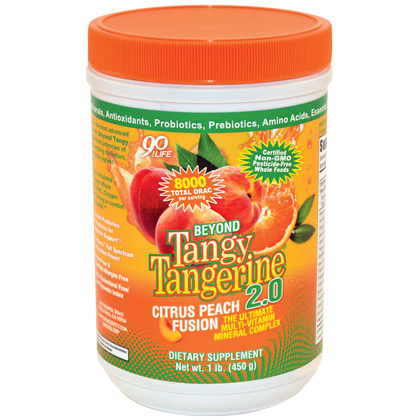 The taste freaked me out upon initially using it; I thought… too tart! I mixed it with a few different juices and started to find my way back to enjoying it, until finally I've found the right combo for me. I recommend doing the same for yourself.
Price wise, the BTT 2.0 is a couple dollars more than the original, but I'd pay double the price for it if it were necessary because it's that good to me. So there is your side-by-side comparison.
If you don't have a canister, I highly recommend getting one now (check with your local Youngevity rep). If you do have one, go get a cup now and cheers to health and great tasting soup of nutrients.
By the way, 2.0 has 0 grams of sugar, 7 grams of carbs, and 25 calories per serving. It is gluten free, shellfish free, vegan safe, and boast an ORAC score of nearly 8100 points.
Due Daniels @duedaniels
Contributing Writer
630.423.6383 (call to order Youngevity Products or go online)
SEMD Youngevity Rep 100505006
Join our newsletter for health related information, and secret unique health and wellness tips never shared in mainstream media. You'll receive 8 audios that will paint a clear picture of why people are sick and what healthy people are doing to stay vibrantly healthy!
*(Nothing on this site is approved by the slimy FDA and you must consult a doctor when taking on any new dietary regimen, supplements, or lifestyles)
Share this and leave a comment – Have something you want us to write about? Send it to us! Did you like this review… tell us in the comments!